Leaflet Storymaps with Google Sheets
The Leaflet Storymaps code template is designed to show a point-by-point guided tour, with a scrolling narrative to display text, images, audio, video, and scanned map backgrounds, as shown in Figure 12.15. You enter all of your map data into a linked Google Sheet (or CSV file) or upload it into a GitHub repository, as shown in Figure 12.16. In addition, the Leaflet Storymaps template allows you to customize the appearance of your data, and to add more layers, such as historical maps and geographic boundaries, which you'll learn how to prepare in Chapter 13: Transform Your Map Data. Furthermore, the storymap design is responsive, so that it appears top-and-bottom on smaller screens (where width is less than 768 pixels), and automatically switches to side-by-side on larger ones. Finally, the Leaflet template is built on flexible open-source software that's written primarily in JavaScript, a very common coding language for the web, so you can customize it further if you have skills or support from a developer.
We created Leaflet Storymaps with Google Sheets to fill a gap that was not addressed by other tools. To be clear, some story map platforms may be easier for beginners to start using right away. For example, while the free and open-source Knight Lab StoryMap platform lacks advanced features, it offers a basic introduction for beginners. Also, in the Knight Lab StoryMap platform, you can Share > Export your storymap content into a package of HTML and source files, as shown in Figure 12.17, which you can host on your own server (like a GitHub Pages repository).

But we do not recommend using proprietary Esri storymap tools, such as Storymaps.com (for personal use with 30-day free trial, then paid subscription) or the ArcGIS StoryMaps platform (for professional use with a site license). Both of these Esri storymap tools lack data portability, meaning you cannot easily export your text, images, or map data away from their platform, so you're stuck there forever, something we cautioned you to watch out for when we discussed how to choose tools wisely in Chapter 1. By contrast, all of the data you enter into the Leaflet Storymaps linked Google Sheet and GitHub repo can easily be migrated to other platforms, which allows you to preserve your data as visualization technology continues to evolve in the future.
Explore the Gallery of Leaflet Storymaps with Google Sheets in Table 12.2 to see what other people created with this template.
Table 12.2:

Gallery of Leaflet Storymaps with Google Sheets

| | |
| --- | --- |
| Synagogue Map, Past and Present by Elizabeth Rose, Jewish Historical Society of Greater Hartford | Mapping the Upper Missouri by Jen Andrella |
| Kensington Remembers by Gordon Coonfield, Erica Hayes, James Parente, David Uspal, Cheyenne Zaremba | We Need to Talk about the Border by Elisabeth Blanchet and Laurent Gontier |
Tutorial Requirements and Overview
Before you begin, you must have a Google Drive account and know how to Make a Copy in Google Sheets as described in Chapter 2. Also, you must have a GitHub account and know how to Edit and Host Code with GitHub as described in Chapter 10. We omitted some screenshots below that illustrate steps we previously covered, so if you get lost, go back to those chapters.
Tip: You'll notice that this tutorial outline is very similar to the one in the previous section, but the links in the first part are different, and several steps in the second part are new.
Since this tutorial involves multiple steps, we created this outline to provide a broad overview. In the first part, you will create and publish your copies of two templates, one for GitHub and another for its linked Google Sheet.
Copy the GitHub template and publish your version with GitHub Pages.

File > Make a Copy of Google Sheet template, Share, and Publish.

Paste your Google Sheet browser address in two places in your GitHub repo.

Update your Google Sheet Options tab info and refresh your live map.
In the second part, you will learn how to geocode and customize point data in the linked Google Sheet, upload images and other map data to your GitHub repo, and add scanned background map layers if desired.
Add text, media, markers, and geocode locations in the Google Sheet Chapters tab.

Optional: Add georeferenced historical map image or GeoJSON overlays.
In the third part, you have two options to finalize your map before publicly sharing with others:
Save each Google Sheets tab as a CSV file and upload to GitHub.

OR

Get your own Google Sheets API Key to insert into the code.
If any problems arise, see the Fix Common Problems section of the appendix.
Now that you have a better sense of the big picture, let's get started with the first part of the tutorial.
Finalize Your Storymap Before Sharing with the Public
Now you're ready to finalize your map. If you wish to share your map link with the public, read the options below and choose either step G OR step H.
Warning: We reserve the right to change our Google Sheets API key at any time, especially if other people overuse or abuse it. This means that you must finalize your map using either step G or H below before sharing it publicly, because it will stop working if we change our key.
G) Save each Google Sheets tab as a CSV file and upload to GitHub
If you have finished entering most of your data into your Google Sheets, downloading them into separate CSV files and uploading those into your GitHub repo is the best long-term preservation strategy. This approach keeps your map and data together in the same GitHub repo, and removes the risk that your map will break due to an interruption to Google services. Plus, you can still edit your map data. If this approach makes sense, follow these steps:
In your Google Sheets, go to each tab and select File > Download into CSV format, as shown in Figure 12.27, to create a separate file for each tab.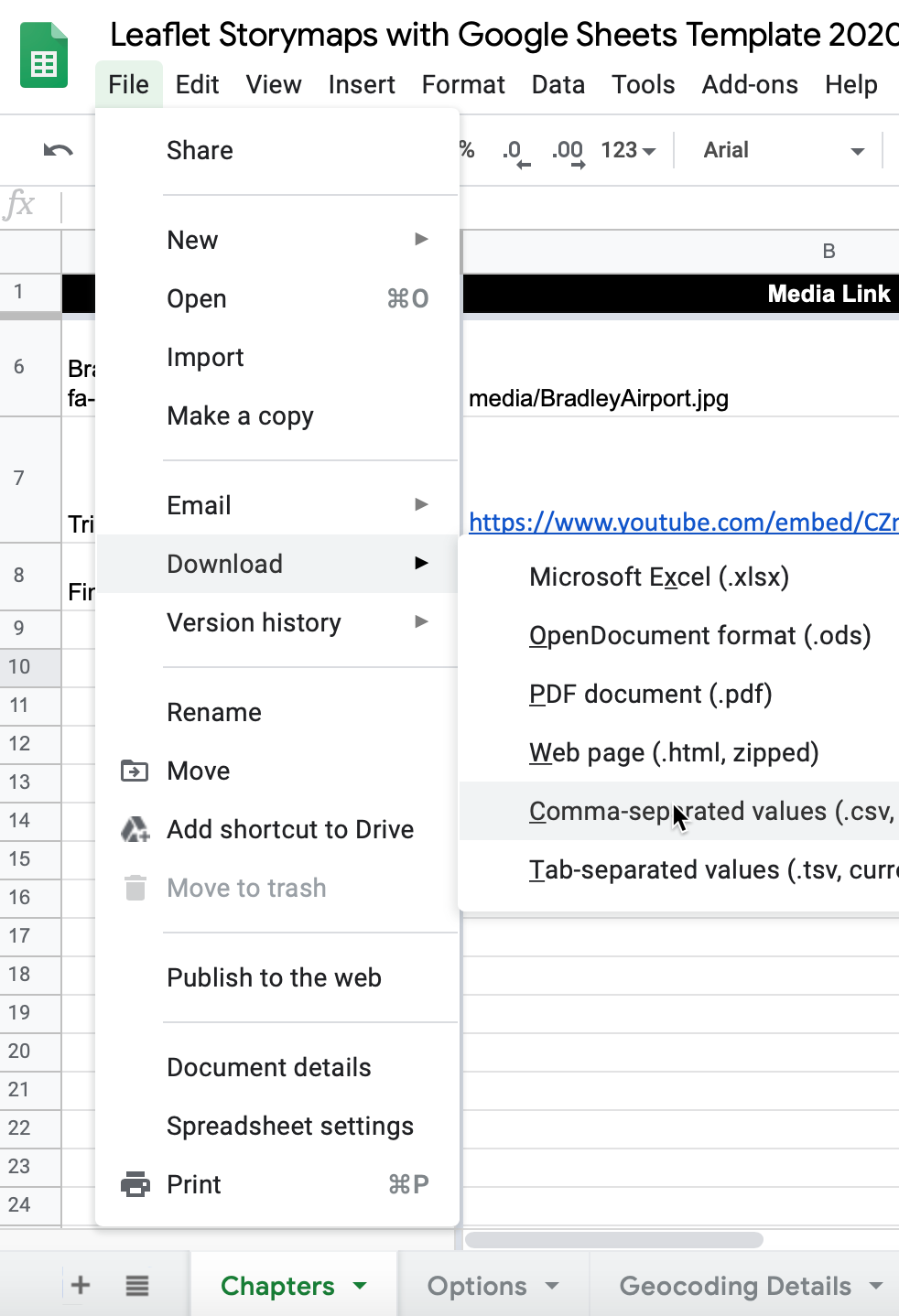 Shorten each file name as shown. The names must be exact. The first two files below are required, and others are optional.
Chapters.csv
Options.csv
Notes.csv (or .txt) Recommended to keep any notes with your data, but not required.
In your GitHub repo, click the csv subfolder to open it, select Add file > Upload files, and upload all of the CSV files above into this subfolder, as shown in Figure 12.28. The Leaflet template code checks here first for data, and if it finds CSV files with the names above, it will pull the map data directly from them, instead of your Google Sheets. Remember that from this point forward, any edits in your Google Sheet will no longer appear automatically in your map.

If you wish to edit your map after uploading your CSV files, you have two options. You can make small edits directly to your CSV files by opening them in the GitHub web interface. Or you can make larger edits in the Google Sheet, and repeating the steps above to download them in CSV format and upload them to replace your existing files on GitHub.
H) Get your own Google Sheets API Key to insert into the code
As an alternative to step G, if you wish to continue to store your map data in your Google Sheets that is published online, go to the section of this chapter titled Get Your Own Google Sheets API Key, and insert it into the Leaflet map code as described, to avoid overusing our key. Google Sheets requires an API key to maintain reasonable usage limits on its service. You can get a free Google Sheets API key if you have a personal Google account, but not a Google Suite account provided by your school or business.
If problems arise, see the Fix Common Problems section of the appendix.