Hands-On Data Visualization
Interactive Storytelling from Spreadsheets to Code
2021-01-14
Preface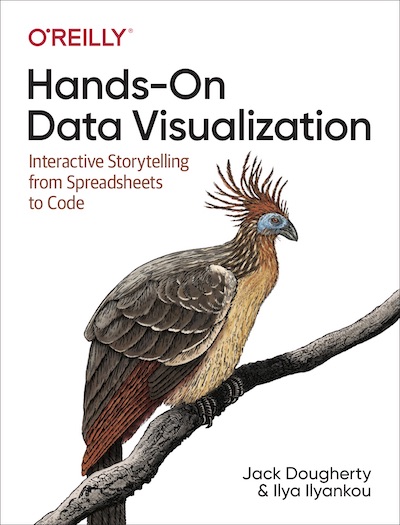 This BOOK-IN-PROGRESS was last updated on: 14 Jan 2021.
Read the open-access web edition at https://HandsOnDataViz.org, and access the open-source code templates at https://github.com/handsondataviz. This book is under contract with O'Reilly Media, Inc., which will publish print and ebook versions for sale in Spring 2021.

Hands-On Data Visualization is copyrighted by Jack Dougherty and Ilya Ilyankou and distributed under a Creative Commons BY-NC-ND 4.0 International License. You may freely share this content for non-commercial purposes, with a source credit to http://HandsOnDataViz.org.
Tell your story and show it with data, using free and easy-to-learn tools on the web. This introductory book teaches you how to design interactive charts and customized maps for your website, beginning with easy drag-and-drop tools, such as Google Sheets, Datawrapper, and Tableau Public. You'll also gradually learn how to edit open-source code templates like Chart.js, Highcharts, and Leaflet on GitHub. Follow along with the step-by-step tutorials, real-world examples, and online resources. This book is ideal for students, educators, community activists, non-profit organizations, small business owners, local governments, journalists, researchers, or anyone who wants to tell their story and show the data. No coding experience is required.