Hands-On Data Visualization
Interactive Storytelling from Spreadsheets to Code
2020-11-24
Preface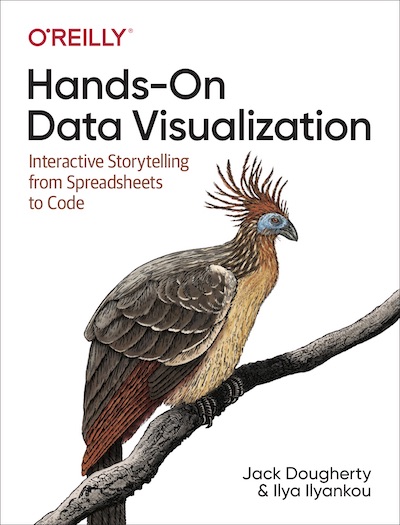 This BOOK-IN-PROGRESS was last updated on: 24 Nov 2020.
Read the open-access web edition at https://HandsOnDataViz.org. This book is under contract with O'Reilly Media, Inc., which will sell print and ebook versions in April 2021.
Tell your story and show it with data, using free and easy-to-learn tools on the web. This introductory book teaches you how to design interactive charts and customized maps for your website, beginning with easy drag-and-drop tools, such as Google Sheets, Datawrapper, and Tableau Public. You'll also gradually learn how to edit open-source code templates like Chart.js, Highcharts, and Leaflet on GitHub. Follow along with the step-by-step tutorials, real-world examples, and online resources. This book is ideal for students, non-profit organizations, small business owners, local governments, journalists, academics, or anyone who wants to tell their story and show the data. No coding experience is required.
Send corrections for this book-in-progress to handsondataviz@gmail.com, or open an issue or submit a pull request on our GitHub repository. If you submit a GitHub pull request, in your commit message, please add the sentence "I assign the copyright of this contribution to authors Jack Dougherty and Ilya Ilyankou" to give us the option to publish it, with credit to you.
View open-source code for the book text and code templates at https://github.com/handsondataviz.