Hands-On Data Visualization
Interactive Storytelling from Spreadsheets to Code
2023-11-02
Preface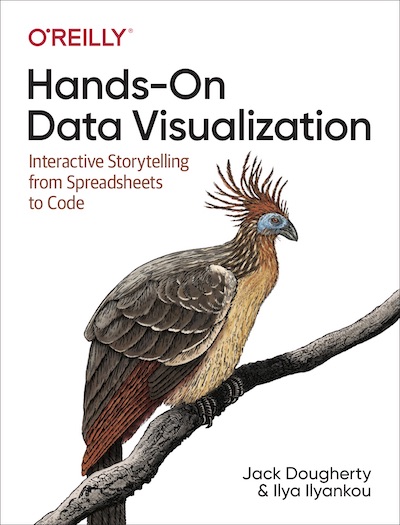 Last updated on: 02 Nov 2023.
Tell your story and show it with data, using free and easy-to-learn tools on the web. This introductory book teaches you how to design interactive charts and customized maps for your website, beginning with easy drag-and-drop tools, such as Google Sheets, Datawrapper, and Tableau Public. You'll also gradually learn how to edit open-source code templates built with Chart.js, Highcharts, and Leaflet on GitHub.
Hands-On Data Visualization takes you step-by-step through tutorials, real-world examples, and online resources. This book is ideal for students, educators, community activists, non-profit organizations, small business owners, local governments, journalists, researchers, or anyone who wants to take data out of spreadsheets and turn it into lively interactive stories. No coding experience is required.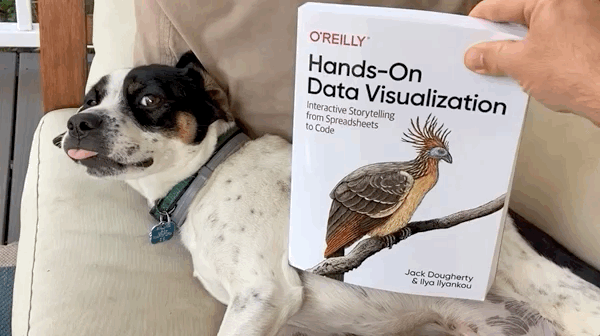 Buy the print book at Amazon - Barnes & Noble - Bookshop - Powell's - your local bookstore.
Or begin a 30-day free trial to all books and digital content on the O'Reilly online learning platform.
Learn more about this open-access web edition, based on the book manuscript we submitted to our publisher, O'Reilly Media, Inc., which we have permission to freely share under the terms of our contract. Readers may purchase the publisher's improved and copyedited version, in print or ebook editions. Figure numbering and other details vary between this open-access web edition and the publisher's editions.